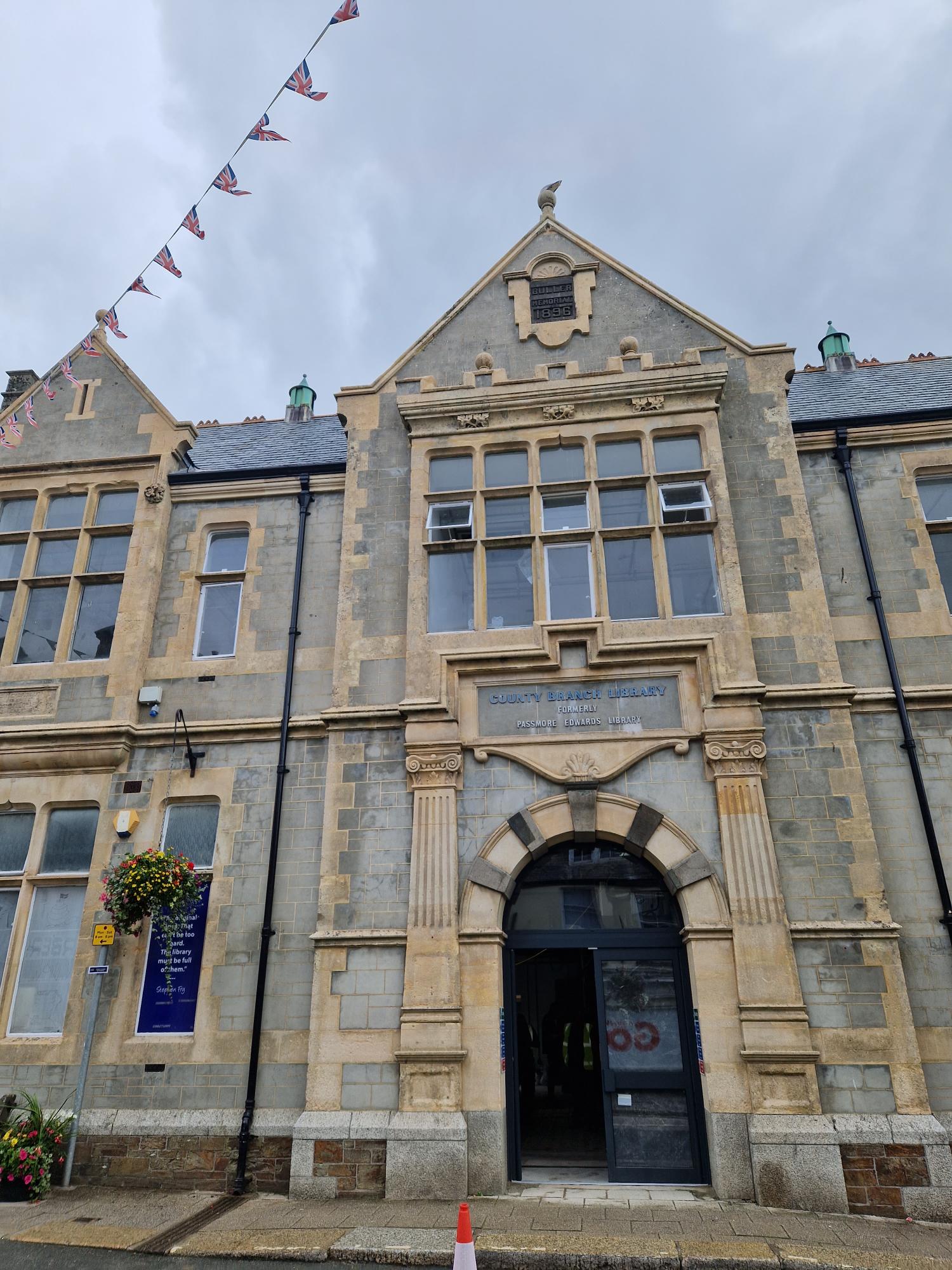 Liskeard Library
Frequently Asked Questions
How do I get to the Liskeard Library?
We are located at Barras St, Liskeard PL14 6AD
(Opposite Liskeard Co-Op).
Train – Liskeard Library is a 15minute walk (0.6 Miles) from Liskeard Train Station.
Buses – Bus Stop in Located 50 yards From Liskeard Library.
Is there Parking?
Parking is available in Westborne Car Park, on West Street, PL14 6BW, which is ticketed and a short walk to Liskeard Library.
How do I borrow and return books?
We have a self serve Library service where you can scan books to take out and return.
How do I order a book?
You can order a book by using the Liskeard Library computer. Your book will then be placed in the deliveries section of the Library near our café for you to collect. We have deliveries of books on Tuesdays and Thursdays.
Reserve or order a Book
Can I use a computer and are there printing facilities?
There is a computer available to use and printing facilities will be available for a small fee.
Is your cafe menu vegetarian and vegan-friendly?
Our café has a variety of drinks, cakes, and light snacks and offers vegan and vegetarian light bites.

Can I bring my dog to Liskeard Library?
We don't allow dogs into Liskeard Library other than service dogs. In order to maintain and promote a safe space we are not able to accommodate dogs in the Library building.
How do I book a meeting room or other spaces?
You can book a meeting room and other spaces by clicking here.
Can I Co-Work at Liskeard Library?
Yes, we very much welcome individuals to co-work at Liskeard Library. You will be able to use our co-working space for free until 1st November and after this time we will offer co-working packages to support your co-working needs, which will include printing, fast and reliable wi-fi, discounts on café items and other library spaces.
Is there wheelchair access to the upstairs?
There is a lift that enables access to the upstairs of the Library.
How can I make a suggestion or feedback on activities?
You can speak to one of our friendly staff whilst in the library or email pathways@realideas.org.
How do I get in contact with Liskeard Library?
You can email us at pathways@realideas.org or use the Contact Form.
What are the Library Opening Hours?
Monday 8.30am – 5.30pm
Tuesday 8.30am – 5.30pm
Wednesday 8.30am – 5.30pm
Thursday 8.30am – 7.30pm
Friday 8.30am – 5.30pm
Saturday 9am – 3pm
Will I still be able to use my Library card?
Yes, current library cards will still be in use and if you don't currently have one, or if you need it renewed, we will be able to support you with a new card.
Will there be public access to computers?
Yes, Liskeard Library will have a computer that will be available to book.
Can I still order books from other libraries?
Yes, you can order books that are not in stock at Liskeard Library and you will receive an email to let you know when these books can then be collected from Liskeard Library.
Search Library Catalogue
Do you run Rhyme Time children's music and singing sessions?
Yes, Rhyme Time runs on Thursdays at 10.30am. There will also be a range of children's activities running from the library. Please keep an eye on our what's on page for more details.
What else is going to be happening at the library?
There will be a wide range of activities for people of all ages and interests, including storytelling, creative writing, VR experiences, Lego robotics, plus evening events, and more. There will be space to work, a meeting room for hire, training opportunities, and access to digital technology.
Can I buy coffee/food at the library?
A range of drinks, cakes, and light bites will be available during café opening hours.
Click Here for Cafe Menu
Do you accept cash?
We operate a cashless system for our café and events and only accept card payments.
What has changed during the refurbishment?
Extensive work has taken place to improve the fabric and infrastructure of the building, including plumbing, drainage, electrics, heating, sound insulation, windows, doors and floors. Many of the previously inaccessible spaces have been opened up, including removing an old caretaker's flat to create a large activity space, and demolishing part of a former extension to create a new courtyard. The flat roof above a new kitchen has been reinforced, giving space for a deck with views across the skyline of Liskeard. Downstairs, floor levels have been adjusted, improving access, and creating flexible, multi-purpose spaces for co-working, children's activities, reading, events and more.
Have new jobs been created at Liskeard Library?
Cornwall Council has redeployed the library staff from Luxstowe House to enable the continued delivery of library services in other local towns. Real Ideas has created new jobs, bringing new employment opportunities.